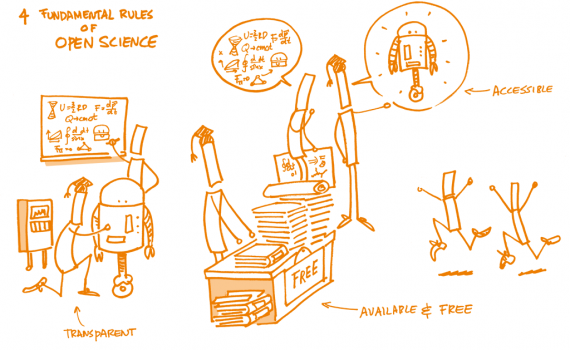 EIFL and our partner library consortia - the Consortium of Ethiopian Academic and Research Libraries (CEARL), Kenya Libraries and Information Services Consortium (KLISC) and the Consortium of Uganda University Libraries (CUUL) - have launched a new project to boost open access and open science policy development, and improve repositories and training.
Titled, 'Institutional and national open access and open science roadmaps and training in Ethiopia, Kenya and Uganda', the project is funded by SPIDER, The Swedish Program for ICT in Developing Regions, located at DSV, Department of Computer and System Sciences, which is a part of Stockholm University. 
Ethiopia: Open science training for researchers & PhD students 
In Ethiopia, CEARL will create open reusable training modules, on open access, research data management and open science, that can be used for self-learning and facilitated training. 
CEARL will also organize two-day training programmes for researchers and PhD students in four public universities: two in Addis Ababa, the capital city - Addis Ababa University and Kotebe Metropolitan University - and two universities outside the capital that still need to be identified.  The aim is to develop a training programme that can be replicated by other institutions in Ethiopia in future.
Kenya: Institutional repository enhancements and open access policies
In Kenya, KLISC will organize institutional repository development and open access policy and advocacy workshops for research managers and librarians in five KLISC institutions: Amref International University, University of Kabianga, Alupe University College, Nyeri Laikipia University and Chuka University. Five institutional repositories will be improved and five institutional open access policies will be drafted. 
Uganda: National open science symposium and infrastructure requirements
In Uganda, CUUL will host a national Open Science Symposium and compile a national open science infrastructure inventory of needs and requirements. Open science policy and Data Management Plan (DMP) templates will be drafted and discussed, a checklist for open science workshop/s created, and a national Open Science Roadmap with recommendations for open science practice in Uganda will be released. A national Open Science Committee will be launched with a call for action on open science and a national policy. 
More about open science training in Ethiopia in this blog by Iryna Kuchma, EIFL Open access Programme Manager, and about EIFL's contribution to open science and open access in Kenya and Uganda.