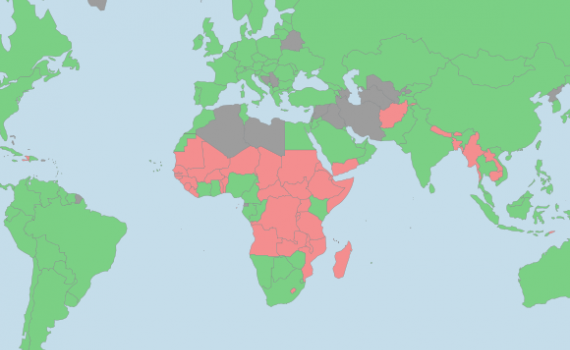 EIFL and IFLA (the International Federation of Library Associations and Institutions) have called on the Members of the World Trade Organization (WTO) to extend international trade law measures which reduce burdens on the poorest countries, and allow them to set regulatory frameworks for copyright to enable their libraries to support education, research and cultural participation.
The call comes ahead of a formal meeting of the WTO Council for Trade-Related Aspects of Intellectual Property Rights (TRIPS), that monitors implementation of the TRIPS Agreement. The meeting, that takes place on 10-11 March 2021, will discuss, among other issues, a request by Least Developed Countries (LDCs) to extend an exemption for LDCs from implementing the substantive obligations for protection and enforcement of IP rights, including copyright, in the TRIPS Agreement.
Students and researchers in developing countries often rely entirely on their library
The exemption is an acknowledgement of the fact that LDCs are recognized by the United Nations as facing severe structural impediments to sustainable development and are highly vulnerable to economic and environmental shocks. They are characterized by constraints such as low per capita income, a low research and industrial base, and weak education systems.
Libraries are a core part of the education and research infrastructure that underpins the development of a viable technological and industrial base in any country. In developing countries, students and researchers often rely entirely on the library for learning and research material, as well as access to digital technologies.
EIFL and IFLA call on WTO Members to approve the request by Chad, on behalf of the LDC Group, to extend the exemption, that expires on 1 July 2021, for as long as a country remains an LDC, and to grant an additional period of 12 years after a country graduates from LDC status.
For the library community, it would have the practical effect of enabling governments freely to craft modern copyright exceptions to maximize possibilities to use copyright-protected content for education, research and innovation, without fear of sanction. For example, it would facilitate classroom use and online education, support world-class research, and enable the use of digital tools, such as text and data mining (TDM) for medical and scientific discovery.
In a spirit of global solidarity, and in support of attainment of the 2030 Agenda for Sustainable Development for the benefit of all, we hope that members will approve the LDC request.
Read the joint EIFL-IFLA statement here. 
On 4 February 2021, EIFL joined over 110 civil society organizations from 40 countries in calling on WTO member states to extend the LDC transition period, for as long as a country remains an LDC.