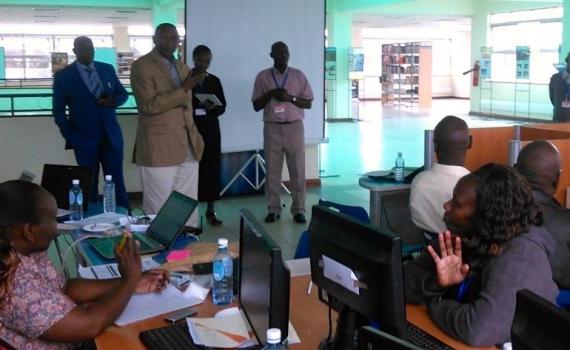 EIFL and Kenya National Library Service have together launched a major national initiative to build technology and e-literacy capacity of public libraries in Kenya and to foster development of new public library services that use technology to meet community needs.
The collaboration targets 29 public libraries that currently provide public access to computers and the internet. The training will enhance 30 librarians' information and communication technology (ICT), new library service planning, and advocacy and awareness raising skills.
This is EIFL's third major national public library ICT capacity building initiative for public librarians in Africa. Earlier this year, EIFL launched similar initiatives in Ghana and Uganda, working with local partners in those countries.
"Our capacity building initiatives in Ghana, Kenya and Uganda support delivery of the Millennium Development Goals by enabling public librarians to use ICT in new services that meet needs in important development areas like agriculture, education, health, promoting local economic wellbeing, social inclusion and e-literacy," said Ms Ramune Petuchovaite, manager of the EIFL Public Library Innovation Programme (EIFL-PLIP).
"The role of ICT in accelerating development is now widely recognized, and in Africa, governments are speeding up roll out of ICT infrastructure and equipment. Public libraries are increasingly being included in national ICT policies and strategies."
The Kenya training adapts the courses and training methods currently being tested in Ghana and Uganda to fit the Kenyan context.
The Kenya training supports a broader Kenya National Library Service initiative to engage partners in transforming libraries across the country into ICT hubs.
"To date 29 out of 60 libraries in our network are adequately equipped with ICT infrastructure.  However, some library users, especially the adults, have little or no experience in ICT.
"There is undoubtedly a need for both our staff and our clients to upgrade their ICT skills to better utilize the resources currently in place," said Mr Richard Atuti, Director of the Kenya National Library Service.
The training timeline and content
The training comprises four modules, and will be completed in May 2015. EIFL has received financial support from UNESCO for Modules 2 and 3 of the programme.
The training was launched on November 10 in Nakuru Public Library, a member of the Kenya National Library Service network of public libraries, when 30 librarians attended Module 1, which focused practical ICT and advanced e-literacy skills.
The remaining three modules will address:
Internet Resources and Searching (Module 2 / December 2014)
Establishing new services in public library (Module 3 / December 2014)
Communication, advocacy and awareness raising for public libraries (Module 4 / early in 2015)
During the training period librarians will develop action plans for initiation of innovative services at their libraries.
Background
Kenya National Library Service is a statutory body established to develop, equip, manage and maintain national and public library services, to promote information literacy and reading and to enhance stakeholder participation in development of libraries in Kenya. The service comprises a network of 60 libraries.
The EIFL Public Library Innovation Programme (EIFL-PLIP) advances community development by enabling public libraries to implement innovative ideas that use technology to improve people's lives and livelihoods. Since 2010, EIFL-PLIP support has sparked the creation of 49 new public library projects and services that are now being implemented by over 300 public and community libraries in Africa, Asia, Europe and Latin America. EIFL-PLIP support has led to creation of 21 new public library projects and services in six African countries (Ghana, Kenya, South Africa, Tanzania, Uganda and Zambia).