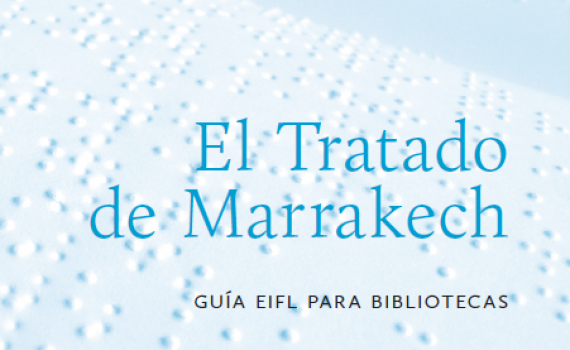 EIFL is delighted to announce that our popular library guide to the Marrakesh Treaty for persons with print disabilities is now available in Spanish, bringing to eight the total number of languages for the guide.
The Marrakesh Treaty, which entered into force in September 2016 with respect to those countries that have ratified the treaty, gives organizations like libraries the right to reproduce printed works in accessible formats like braille and audio, and to exchange these works across national borders. EIFL has been a strong advocate for ratification of the Marrakesh Treaty and its implementation into national law.
The new translation of 'The Marrakesh Treaty: an EIFL Guide for Libraries' is a useful resource for Spanish-speaking librarians supporting ratification and national implementation of the Treaty. The guide provides a straightforward introduction to the Treaty and its key provisions, and concrete recommendations for implementation in order to maximize accessible reading materials available through libraries.
In addition to the new Spanish version, EIFL has published the guide in Arabic, English, French, Lithuanian, Nepali, Russian and Serbian.
EIFL would like to thank the translator for the Spanish version, Virginia Inés Simón, Project Manager at the Ibero-American Network of Experts on the Convention on the Rights of Persons with Disabilities in Argentina.
Visit EIFL Resources to download The Marrakesh Treaty: an EIFL Guide for Libraries (Spanish).
BACKGROUND
Read about EIFL's work advocating for the Marrakesh Treaty.