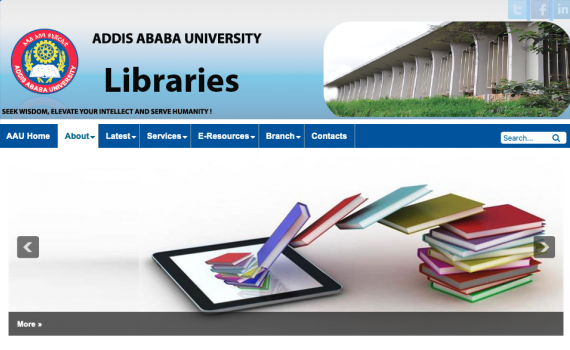 With support from EIFL, Addis Ababa University Libraries (AAUL) has increased access to and visibility of research from academic institutions across Ethiopia by upgrading the national open access publishing platform, Ethiopian Journals Online (EJOL), and adding 21 new journals from 10 institutions to the platform. 
As part of the 'Enhancing Ethiopian Journals Online' project, AAUL has improved the look and feel of EJOL, with customized pages for each journal, including updated journal profiles and useful information for authors and reviewers (editorial policies, author guidelines, reviewer guidelines). 
By configuring editorial workflows, the project has made the platform more efficient, and integration of DOIs has made journals and articles easier to locate. 
The project team also provided training for librarians, journal editors and editorial staff to familiarize them with the upgraded journals platform and its new functionalities. 
In addition, 20 journal editors took part in workshops on the use of the publishing software, Open Journal Systems (OJS), and  the eligibility standards and criteria required for indexing in the Directory of Open Access Journals (DOAJ).  Journal editors also received journal policy templates. 
New journals online
The new journals added to the EJOL platform are: 
Academy of Ethiopian Language and Culture – Zena-Lissan Journal
Addis Ababa University – eleven journals
Arsi University - Arsi Journal of Science and Innovation
Bule Hora University – Journal of Indigenous Knowledge and Development Studies
Chemical Society of Ethiopia – Bulletin of Chemical Society of Ethiopia
Ethiopian Civil Service University – Journal of African Development Studies
Ethiopian Pediatric Society – Ethiopian Journal of Pediatrics and Child Health
Ethiopian Police University – Ethiopian Journal of Police Studies
St Mary University – Journal of Business and Administrative Studies
University of Gondar – two journals - Ethiopian Journal of Health and Biomedical Sciences and Ethiopian Renaissance Journal of Social Sciences and the Humanities
Back issues from more than 18 journals have also been uploaded to the platform.
"We are working to make all Ethiopian journals openly available online, and support them to meet standards for local accreditation, also for indexing in DOAJ. Moreover, journals are eager to start the online submission workflow and there are journals already accepting papers online on EJOL," said Getnet Lemma, Technical Services Head, Addis Ababa University Libraries, and Ethiopian Journals Online (EJOL) Administrator. 
More about EIFL's support for open access in Ethiopia.