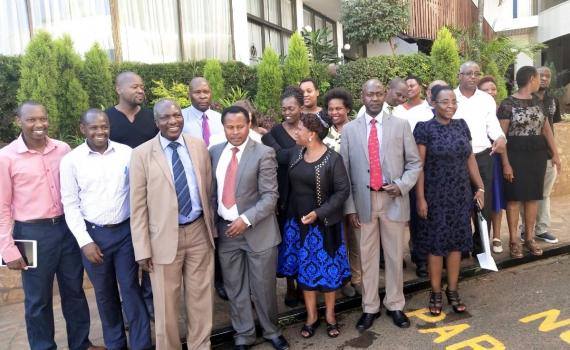 EIFL's work with over 40 universities and research institutes in Kenya, Tanzania and Uganda over the past three years has led to a dramatic increase in the amount of research published in open access (OA) in the three east African countries. 
As a result, important research from the region is now visible and freely available online, for use and re-use by other local and international researchers, by educators and students, and by governments and policy makers. The increase in OA opens up opportunities for researchers to collaborate internationally, and improves university visibility and profiles.
In Kenya, where 20 universities took part in the project, the amount of research published in OA increased by more than four times. In Tanzania, at 17 institutions, OA content doubled, and in Uganda, at 11 institutions, it more than doubled. 
This major boost for open access in East Africa is a result of the 'Open access policy development in Kenya, Uganda and Tanzania to make more digital content available', project, which took place from 2016 - 2019 with funding from Spider, the Swedish Programme for ICT in Developing Regions DSV, Department of Computer and System Sciences, Stockholm University. 
The project was implemented by EIFL and EIFL partner library consortia - Kenya Library & Information Services Consortium (KLISC), the Consortium for Tanzania Universities and Research Libraries (COTUL) and the Consortium of Uganda University Libraries (CUUL). 
In order to increase the amount of research available in OA, we concentrated on two key areas - institutional policies mandating OA to research, and institutional OA repositories.
25 MORE OA POLICIES
We supported policy development through a mixture of activities: raising awareness about the benefits of OA; setting up OA policy task forces; building policy development capacity; providing OA policy templates for task forces to work with, and advocacy - in total, 87 meetings - to win the support of researchers and university managements for OA. 
As a result, 25 more institutions adopted OA policies: 15 in Kenya, six in Tanzania, and four in Uganda. At another 17 universities and institutions in the three countries, OA policies have been drafted and are ready for approval by university managements.
The policies mandate deposit of all research output produced at the universities, such as journal articles, theses and dissertations, in institutional OA repositories.
24 MORE OA REPOSITORIES
The project led to the creation of 24 new OA repositories: 11 in Kenya, eight in Tanzania and five in Uganda. It also led to improvements in 23 existing OA repositories. We also worked with the Tanzania Commission for Science and Technology (COSTECH) on enhancements and workflows of the national OA repository which harvests content from institutional repositories. 
At the outset of the project, using the EIFL repository checklist, the local project teams from KLISC, COTUL and CUUL conducted audits in their countries to find out about the status of repositories, what software was being used, and the repository functionalities. The checklist also gave repository managers and administrators insights into what well set up repositories could do, and recommendations on how to set them up. 
Librarians, who are repository managers, and librarians and IT officers, who are repository administrators, were invited to attend workshops and webinars - in total, 48 training events - covering a wide range of topics: DSpace repository set-up and enhancements, policy administration, metadata standards and managing submissions workflows. By the end of the project, IT personnel had improved their working relationships with library teams and their awareness of repository softwares and their functionality. The IT teams significantly improved their knowledge and skills in handling DSpace repositories, and can now troubleshoot and maintain their systems, and provide technical support.
The in-country project teams from the library consortia provided on-site mentoring and consultation and online technical support for installation, configuration and customization of repositories.
Repository improvements increased visibility and discoverability of content, enhanced user experiences, and ensured that back-up procedures and disaster recovery plans were in place. 
Repositories enabled persistent identifiers, which are long-lasting references to digital resources that solve broken link problems and play a key role in discoverability, accessibility and reproducibility of research. They have enabled OAI-PMH, which allows communication between servers globally and interoperability with other repositories to exchange metadata of content. We encouraged registration of repositories with one of the two OA repositories registries, Directory of Open Access Repository (DOAR) and the Registry of Open Access Repositories (ROAR). These registries are used to expose OA content to different aggregators and search engines.
We also ensured that repositories offer a good user experience on mobile devices such as smart phones and tablets.
Repositories began using Google analytics and other usage statistics tools to capture statistics.
GROWTH OF CONTENT IN OA REPOSITORIES
There was a significant increase in research published in OA in the three countries. By April 2019, when the project ended, there were over 32,500 documents available in the repositories of 20 participating institutions in Kenya - more than four times as many as at the outset of the project in 2016. In Tanzania, the number of items available in 17 OA repositories doubled, to just under 19,000. In Uganda, the number of items in OA repositories of 11 institutions more than doubled, to just under 12,000.
The project has laid the foundations for OA content in the institutional repositories to continue to grow. By the end of the project, all of the 47 universities and institutions had adopted OA policies or were in the process of adopting them. They all had repositories and repository management teams equipped with the knowledge and skills needed to handle DSpace repositories.  
The three library consortia have created OA repository services that will provide ongoing on-demand support for repository managers and administrators in future. 
Read more
Read our case study, Opening Up East African Research to the World. Seven years of EIFL's work in Kenya, Tanzania and Uganda (based on a feature article published in EIFL's 2017 Annual Report).