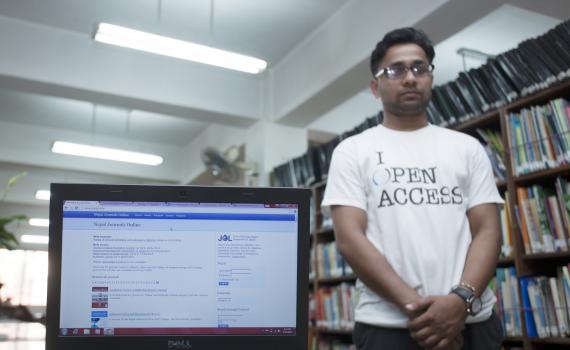 EIFL is pleased to announce a new seven-month project 'Open Access: Greater Reach for Research' with Open Access Nepal – a student led initiative – that will advocate for open access in major universities and colleges in five regions of Nepal.
Open Access Nepal has been successfully organizing open access advocacy and grassroots campaigns in Kathmandu, the capital city of Nepal (see more information about this in our blog post Generation Open: Open Access Week 2014). But with time, they've felt the importance of expanding their work outside the capital targeting larger scale of students and researchers.
In a few weeks universities will be opened again in Nepal (they have been closed due to the aftershocks that are still being experienced).
The Open Access Nepal team will travel to all universities of Nepal and some acclaimed colleges to organize two-days events – meetings and workshops – providing orientation about open access and open educational resources for researchers, undergraduate and postgraduate students and librarians.
Participants will also be trained on how to conduct open access advocacy at their institutions.
The project team will visit the following institutions in the following Nepal development regions:  
Western region, Kaski district: Pokhara University and Paschimanchal Engineering Campus
Eastern region, Morang district: Purbanchal University
Mid Western region, Surkhet district: Mid Western University; and Banke region: Nepalgunj Medical College  
Far Western region, Kanchanpur district: Far Western University
Eastern region, Sunsari district: B.P.Koirala Institute of Health Sciences
Central region, Chitwan district: Agriculture and Forestry University
Open Access Nepal will be working with the following partners advocating for open access, open education and open science in the country: Nepal Library and Information Consortium (NeLIC, EIFL partner), The Social Science Baha, The International Centre for Integrated Mountain Development (ICIMOD, that has introduced an open access policy in 2014, Ministry of Health and Population, Nepal Medical Students' Society, Nepal National Library, Kathmandu University, Central Library, Open Knowledge and Wikipedia Nepal.
Effective coordination between the central and local chapters of Open Access Nepal as well as between librarians, journal editors and publishers, policy makers and representatives from different organizations working directly or indirectly in the field of open access is one of the foundations for the key project success.
The new government is committed towards developing a national open access and open education policy and an Open Access Committee has been formed by the government chaired by the Secretary of Ministry of Education.
Open Access Nepal is a member of the Committee and has been invited to assist with open access policy development and the text books digitization up to high school.
The final project report will be submitted to the government to help them formulate necessary plans and policies.
About the programme
The Open Access Programme removes barriers to knowledge sharing by advocating for the adoption of open access (OA) policies and mandates, and by building the capacity to launch and sustain OA repositories and journals.