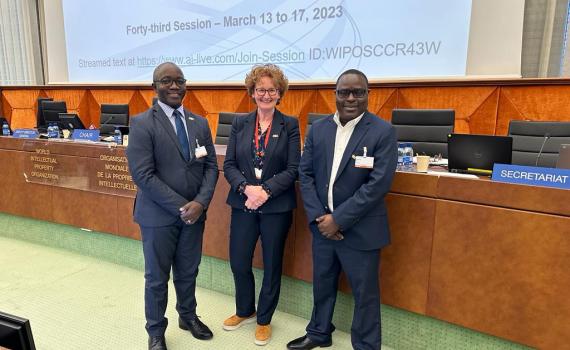 The major achievement at the 43rd session of WIPO's Standing Committee on Copyright and Related Rights (SCCR/43) was the adoption of a work programme on limitations and exceptions (L&Es) (document SCCR/43/8), reports Teresa Hackett, EIFL Copyright and Libraries Programme Manager.
SCCR/43 took place in Geneva from 13 - 17 March 2023. Teresa represented EIFL at the meeting, with Dick Kawooya, University of South Carolina, USA, and expert advisor Professor Anthony Kakooza, Makerere University, Uganda. 
The work programme, proposed by the African Group, provides structure and direction to the work of the committee on L&Es. It mandates concrete activities in key priority areas, and provides a framework for advancing discussion on these issues. The three priority areas set out in the work programme are preservation by libraries, archives and museums, and the use of preserved materials; online teaching, learning and research, and  figuring out how people with disabilities, other than print disabilities, can benefit from Marrakesh Treaty rights. 
The work programme also describes a process to advance work on these topics. Between SCCR meetings, the Chair should promote consensus building. For example, through the formation of working groups of member states, supported by experts, to prepare objectives and principles for consideration by the Committee.
In addition, a new Toolkit on Preservation (document SCCR/43/4) was presented, as well as ​​an improved version of the draft treaty for the protection of broadcasting organizations (document SCCR/43/3).
For further information about what happened at WIPO SCCR/43 read Teresa Hackett's blog, A great week at WIPO, and all statements submitted by EIFL.