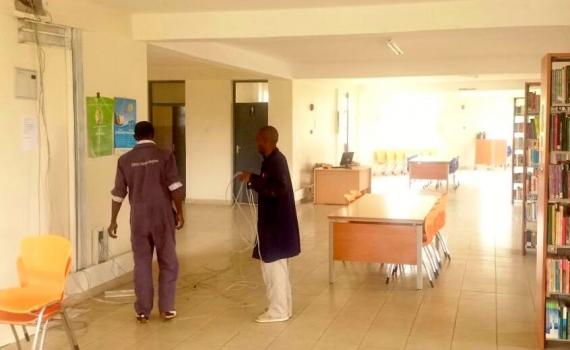 Posted: February 25, 2016
EIFL is delighted to announce that Kenya National Library Service (knls) has received support from the Communications Authority of Kenya (CA) to establish 46 new e-resource centres in public libraries that serve rural and peri-urban communities across the country.
The e-Resources Centres Project will provide communities living in under-resourced rural areas and low-income families in urban areas of Kenya with much-needed computer and internet access. It also aims to promote development of community-based knowledge-sharing initiatives that will contribute to economic and social development.
The 46 public libraries where the new e-resource centres will be located are a hive of activity, with workers renovating space, laying electricity and broadband cables, reinforcing security, and installing new furniture, computers and printers. In seven libraries, where there is no electricity, CA is installing solar power.
All centres will be made accessible to visually impaired people, and computers will include software appropriate for use by visually impaired people.
The proposed launch date for the new centres is May 2016.
NEW OPPORTUNITIES FOR KNLS-EIFL PARTNERSHIP
"The knls has come a long way in identifying credible development partners to support its strategic initiatives for integration of ICT infrastructure in quality service delivery. The funding by CA clearly demonstrates our commitment to successful implementation of development projects," said Mr Richard Atuti, Director of knls.
Mr Atuti said the new e-resource centres strengthened the EIFL-knls partnership, which aims to transform public library services for the benefit of communities: "The project presents an opportunity for knls and EIFL to anchor new programmes/initiatives on existing public library ICT infrastructure by developing a wide range of ICT-based library services and products that meet information needs of communities," he said.
EIFL has worked with knls since 2009, when the EIFL Public Library Innovation Programme (EIFL-PLIP) supported initiation of e-health corners in two rural towns, Kisumu and Eldoret. Later, in 2012  EIFL-PLIP supported knls-Kibera Public Library to implement a youth education pilot project, using tablet computers to support education of children living in Kibera, a giant slum on the outskirts of Nairobi.
In 2011, EIFL conducted unprecedented research into Perceptions of Public Libraries in Kenya, which found that public libraries were perceived as passive spaces, for books and study, and were not seen as institutions that could offer dynamic services that could change people's lives. The study also found that public libraries were poorly equipped with computers and the internet, and could not meet community needs in these areas.
CHANGING PERCEPTIONS OF PUBLIC LIBRARIES IN KENYA
To enable libraries in Kenya to change public perceptions, and to advocate for provision of technology, EIFL supported capacity development of library leadership, librarians and other stakeholders, building their advocacy and awareness-raising skills and confidence.
This resulted in knls presenting a strong proposal to the CA, requesting support for establishment of e-resource centres. The CA had previously supported creation of e-resource centres in 10 knls libraries, and knls wished to extend public access to ICT in public libraries throughout the country.
In 2014/15 EIFL and knls collaborated on a major capacity building initiative involving 30 librarians from 29 public and community libraries that were already equipped with computers and connected to the internet. The training built librarians' capacity to use digital technology effectively, and to create new public library services that use digital technology to benefit communities. It also built librarians' training capacity so that they can teach community members to use computers and the internet.
"We welcome the news that more libraries in Kenya are receiving technology, and we look forward to expanding our partnership with knls in 2016," said EIFL-PLIP Manager, Ramune Petuchovaite.