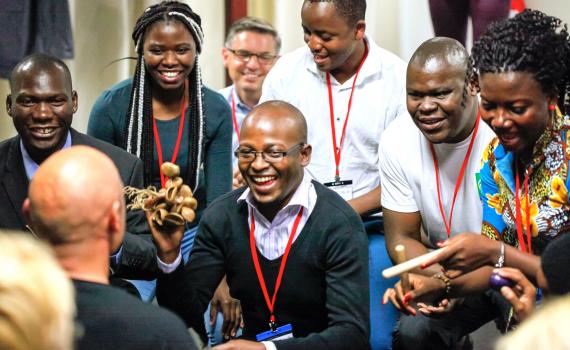 THIS CALL IS CLOSED /  EIFL is inviting African public librarians aged under 35 to apply to take part in a two-year initiative that will connect them to inspiring public libraries in Asia and Africa.
IYALI (short for Initiative for Young African Library Innovators) is a partnership between the EIFL Public Library Innovation Programme (EIFL-PLIP), the African Library and Information Associations and Institutions (AfLIA), and the International Federation of Library Associations and Institutions (IFLA).
IYALI will expose emerging public library innovators in Africa to experiences and ideas from other developing and transition economy countries. The initiative aims to expand the professional horizons of African public librarians, and help them see their own work and achievements in a new and different light.
The deadline for applications is 9 February 2018.
THE IYALI LEARNING EXPERIENCE
Successful IYALI applicants will have the opportunity to:
Attend a Young African Library Innovators workshop in Indonesia and visit public libraries that are providing innovative, non-traditional services (21 - 24 August 2018).
Take part in the IFLA World Library and Information Congress 2018 in Kuala Lumpur, Malaysia, and connect with IFLA leaders, programme associates and representatives of IFLA member libraries (26 - 30 August 2018).
Enter a competition to win a scholarship to attend and share experiences at the 2019 Conference of AfLIA.
FURTHER DETAILS OF THE CALL
Click here for further details, to find out if you are eligible to apply, and to download an application form.
BACKGROUND - IYALI 2017
This is the second IYALI call. In August 2017, 13 Young African Library Innovators from Algeria, Ghana, Namibia, South Africa, Tanzania, Uganda and Zambia travelled to Lithuania and Poland for an intensive two-week learning and networking programme. 
The IYALI 2017 agenda included an interactive public library innovation workshop in Vilnius, Lithuania; visits to public libraries in Lithuania and Poland; mobile un-conferences for sharing learning and ideas, and participation in the IFLA World Library and Information Congress 2017 in Wroclaw, Poland. Giving feedback, participants said they -
Gained practical knowledge and skills for engaging communities and developing new services, like creating library makerspaces, providing computer and internet training for different community groups, and using games to support learning;
Gained new and concrete ideas for library management and leadership;
Learnt more about how the concept of public libraries is changing in an era in which computers and the internet have become essential information tools;
Learnt about new styles of services that, for example, allow noise in the library; use music and art to facilitate learning, and target particular community groups, like farmers and business people.
Significantly enhanced their professional networks: they built new and deeper relationships with their peers from Africa and - some for the first time - met and shared knowledge with public librarians from other countries.
Read our blog about insights and inspirations shared by IYALI 2017 group.
Read more about the IYALI 2017 learning experience.
ABOUT THE PARTNERS
IYALI is funded by a grant from the Bill & Melinda Gates Foundation.