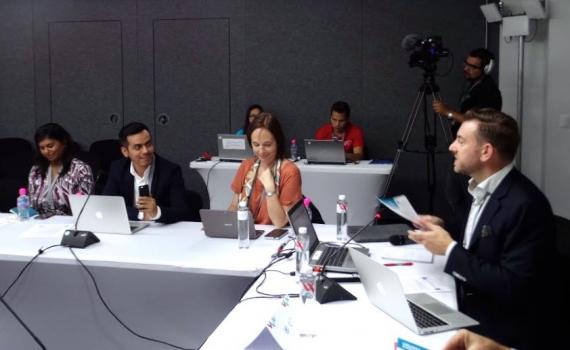 The Internet Governance Forum (IGF) has released a report on policy options for universal and meaningful internet access, which draws on over 60 written contributions by stakeholders from across the globe.
Titled Policy Options for Connecting and Enabling the Next Billion(s): Phase II and released in January 2017, the report is the final output from the second phase of the IGF's work with the global internet governance community, which includes regional IGFs, dynamic coalitions of the IGF, government agencies, infrastructure providers, technology experts, civil society organizations and internet content developers.
The report addresses challenges and opportunities for addressing and overcoming barriers to internet access, promoting access in diverse contexts and regions, and ensuring that access also supports achievement of the UN Sustainable Development Goals (SDGs)
INTERNET ACCESS MUST BE 'UNIVERSAL AND MEANINGFUL'
In their contributions, stakeholders recognized that for internet access to support the SDGs, it needs to be both universal and meaningful. The focus of the report is therefore both on connecting the more than 3.9 billion people across the world who are still offline, and ensuring that access is meaningful - i.e. that the internet has relevant, affordable content that is available in local languages, and that people are empowered to use online information ways that motivate action and improve their lives.
Libraries feature prominently in the report, as partners in providing meaningful internet access.
1 World Connected – a research project based at the University of Pennsylvania, noted in its submission that there are regions where institutions such as schools and libraries are valuable public access facilities for providing meaningful access to the internet.
The submission notes that such facilities often provide access to free internet training programmes; it is often easier for social responsibility initiatives to collaborate with public access facilities as opposed to setting up their own digital literacy training programmes; and such facilities also provide an environment where peer networks can be formed and learning can be enhanced through group activities, which often improves internet uptake.
LIBRARIES CONTRIBUTING TO INTERNATIONAL DEVELOPMENT GOALS
Libraries from many countries are cited in the report as contributing to the SDGs.  
In its submission, the Dynamic Coalition on Public Access in Libraries (DC-PAL) presented policy options for enabling people to take part fully in the global and local information society. EIFL is a founder member of the DC-PAL, which was formed in 2011 to engage the IGF community in discussion about the role and potential of public libraries in supporting the goal of universal access to the internet.
The DC-PAL submission provides numerous examples of the ways in which libraries are expanding access to the internet. Several EIFL Public Library Innovation Programme (EIFL-PLIP) grantees and EIFL Public Library Innovation award winners are used in the report to show how libraries are contributing to the SDGs.
Kyrgyzstan Libraries Information Consortium (KLIC), which raises  community awareness about tuberculosis, is given as an example of how public libraries can contribute to the SDG related to health. Maendeleo Foundation, which uses solar-powered netbook computers to teach farmers technology skills and connect them to agricultural information, is used to show how libraries can help promote sustainable agriculture.
National Library of Uganda's agricultural service and technology training for women farmers, and Public Library Rija'tzuul Na'ooj in Guatemala, which offers women free internet access and training, and business skills training, are used as examples of libraries empowering women. Cyberiada public library in Poland, which partnered with environmental experts and ecologists to design an interactive environmental education programme, is used to show how libraries can achieve SDGs related to the environment.
The report also draws on discussion that took place during the Global IGF 2016 (Guadalajara, Mexico, 6 - 9 December).
CONNECTING THE NEXT BILLION - WHAT THE EXPERTS SAY
The IGF has released a video recorded at the Global IGF 2016 in which experts share their answers to the question, 'How will bringing another billion people globally online change the world?'
FURTHER READING
Read the IGF report here
Read the DC-PAL contribution here
Read Connecting the next billion: spotlight on access, the blog by Janet Sawaya, EIFL-PLIP Advisor for Initiatives for Africa, who attended IGF 2016.