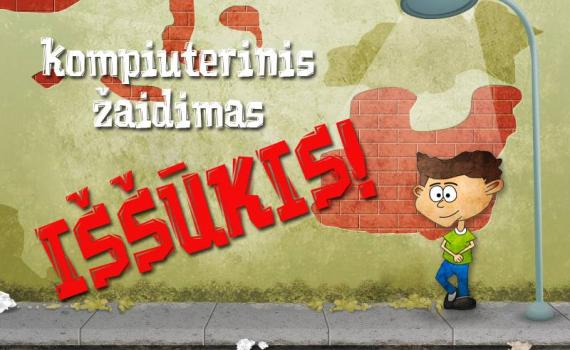 Utena 'A. & M. Miskiniai' Public Library in Lithuania has received funding to expand their innovative 'Play to Study' service, which includes an educational computer game for vulnerable children, to more than 50 schools in nine municipalities, reaching 7,000 children.
The library initiated 'Play to Study' with support from EIFL's Public Library Innovation Programme (EIFL-PLIP) in 2010. 'This service is unique. It is the first time in Lithuania for a service initiated by a public library to be implemented in schools. 'We highly value this important cooperation and partnership between the two sectors – culture and education – and truly hope the service will strengthen collaboration for a long time,' said Ms Laima Lapiniene, coordinator of the service.
Utena 'A. and M. Miskiniai' Public Library worked with partners to develop the game – Iššūkis (the Challenge) – because large numbers of children were coming to the library during school hours. The game encourages children to go back to their schools by engaging them in tasks related to the school curriculum. At key points, players must contact their teachers.
Iššūkis quickly caught on and within a year, over 1,700 children from 13 Utena District schools were playing, in 25 libraries. Teachers reported improvements in pupils' school results and behavior, and improved relationships between poorly performing pupils and teachers.
The new funding, €60,290 (about US$ 78,000), from the European Social Fund and the Lithuanian government, comes through the library's partner, Education Development Centre (EDC), a government institution which supports students, teachers and schools. 
The fund enables the library to develop the game further and extend it to other regions. As part of these activities, the library will arrange training for over 60 school librarians in the nine municipalities to support pupils who play Iššūkis, and training and outreach activities to encourage teachers and pupils to take part.
Read more about Utena 'A. & M. Miskiniai' Public Library's innovative 'Play to Study' service.