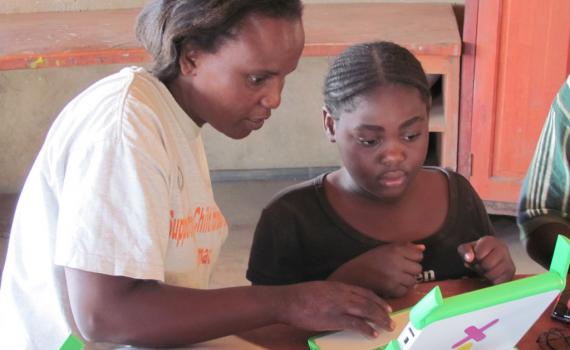 Posted: February 12, 2015
Lubuto Library Partners has announced that the mother tongue literacy lessons originally created and piloted with support from the EIFL Public Library Innovation Programme (EIFL-PLIP) are to be handed over to the Zambian Government for distribution across the country.
The 710 multi-media lessons are designed to teach children who are speakers of Zambia's seven major languages how to read.
"We will be handing the lessons over to Government in February, and working with them to disseminate the lessons as widely as possible via various means, including creation and distribution of DVD sets for offline use," said Jane Meyers, President of Lubuto Library Partners.
Lessons extend school curriculum to computers and mobile devices
"We are thrilled to announce the completion of the lessons, which can be used in classrooms, libraries, homes – any place where learners can access a desktop, laptop, iPad or other offline or online device.
"The lessons thus extend the school curriculum to computer and mobile platforms, reaching beyond the classroom to computers and mobile devices everywhere these languages are spoken as learners' mother tongues:  Nyanja, Bemba, Lozi, Luvale, Lunda, Tonga and Kaonde," Meyers added.
The 710 completed multimedia lessons improve on a pilot set of 700 lessons created with EIFL-PLIP support in 2010/11 by LubutoLiteracy, a programme of Lubuto Library Partners. Improvement was made possible by an All Children Reading grant awarded to Lubuto Library Project by USAID and its partners, World Vision and the Australian Agency for International Development (AusAID) in 2013.
The new set of lessons were designed by Dr Joseph Mwansa of the University of Zambia, who also designed the new reading curriculum recently introduced by the Zambian government. 
Children can learn without supervision
The lessons need no supervision of learners as they study. They are designed with gradual progression from learning single vowels then vowel combinations, then simple to complex syllables eventually combined into decodable words, and finally lessons consisting of short reading comprehension texts. 
In addition to the lessons' simple progression, they contain images that match with the word meanings, thus making learning easy and interesting. Audio enhancement of the lessons provides the learner with instant feedback in each lesson.  
Lessons 'illustrate the role that public libraries can play as technology incubators'
"The LubutoLiteracy lessons again illustrate the role that public libraries can play as technology incubators.  In developing the lessons, we were able to hone the technical skills of many youth who came to us as library users – and who now walk away as app developers, computer graphic designers, audio specialists and with other highly marketable skills. 
"Lubuto libraries are thus not only technology incubators but important youth workforce developers.  These are only two of the very important roles that professionally designed public libraries can play," said Meyers.