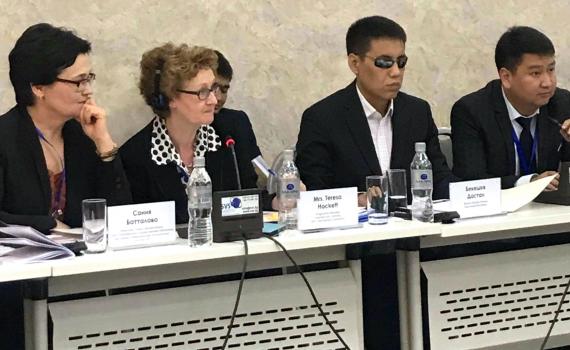 EIFL and the University of Toronto (U of T) Libraries are proud to announce the first international transfer of accessible format books to beneficiaries in Kyrgyzstan.
The transfer was in response to book requests from two beneficiaries, Dastan Bekeshev, a lawyer and member of parliament (MP), and Gulnaz Juzbaeva, an MBA student at the American University of Central Asia (AUCA). It took place during a National Seminar on the Marrakesh Treaty organized by WIPO (the World Intellectual Property Organization) in cooperation with the State Service of Intellectual Property and Innovation (Kyrgyzpatent).
The request to U of T Libraries was facilitated by EIFL and Sania Battalova, EIFL's Marrakesh Advisor in the region. "We wanted to show the Marrakesh Treaty in action, and how straightforward international exchange of accessible books can be, once a country has ratified and implemented the Treaty," said Teresa Hackett, EIFL Copyright and Programme Manager.
Canada acceded to the Marrakesh Treaty in June 2016, and Kyrgyzstan did so in May 2017. Both countries have implemented the Treaty into national law.
When as many libraries as possible in countries that are party to the Treaty take full advantage of the Treaty, they are playing their part in finally ending the book famine - the fact that only about 7% of books are published in a format that can be read by blind, visually impaired and otherwise print disabled people.
The international accessible book transfer that took place in Kyrgyzstan shows how it can be done. The books were converted into digital accessible format and delivered using Dropbox, an online file-sharing and storage service.
Read the press release in English and in Russian.
Background
EIFL supported negotiations of the Marrakesh Treaty over five years at WIPO and participated in the Diplomatic Conference that led to the adoption in 2013 of the Treaty.
To complete the work at WIPO, and to fulfill the promise of the right to read for blind, visually impaired and other print disabled people, EIFL is supporting ratification of the Treaty in partner countries, and its implementation into national copyright law.