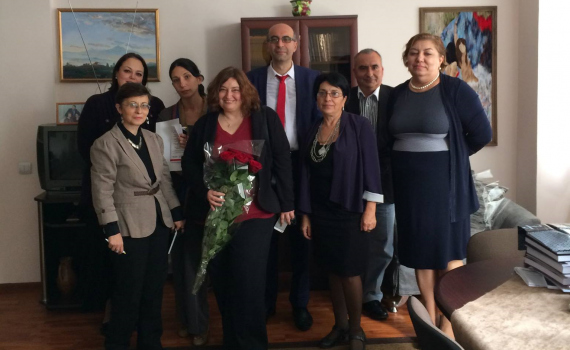 An EIFL-funded project has led to the launch of a national open access (OA) repository for electronic theses and dissertations in Armenia
The new repository, titled Open Access Repository of the Armenian Electronic Theses and Dissertations (generally known by its short name, the Armenian ETD-OA), already includes over 600 electronic theses and dissertations (ETDs).
The Armenian ETD-OA is an important result of the EIFL-funded 'Enabling OA ETDs as High Priority Scholarly Resources for Armenian Research and Education Communities' project. The project was implemented by EIFL's partner consortium, the Electronic Library Consortium of Armenia (ELCA).
HOW THE REPOSITORY DEVELOPED
There are over 88,000 scientific research articles available in OA in Armenia, but theses and dissertations were not available online.  About 600 dissertations are defended annually in Armenia and, through the EIFL-supported project, ELCA was trying to find the quickest solution for making them available in OA and searchable online.
The idea was to set a national repository for ETDs to be managed by the National Library of Armenia. The Supreme Certifying Commission of the Republic of Armenia, the body that awards academic degrees in Armenia, was identified as an important strategic partner and stakeholder of the project.
The project engaged over 160 research administrators and managers, researchers and students, legal experts and librarians in meetings and advocacy workshops.
An important stepping stone in development of the new repository was a national workshop during International OA Week in October 2015. Guest speaker Maja Maricevic, the British Library's Head of Higher Education, spoke about EThOS, a national British Library service that aims to maximize the visibility and availability of the UK's doctoral research theses. Workshop participants discussed the practicalities of setting up a national repository for Armenian ETDs, including policies, legal and copyright issues, and licensing.
To promote the idea of the repository, ELCA also organized four advocacy workshops, inviting major stakeholders from the capital city, Yerevan, and from other parts of the country.
In November, the National Library of Armenia and the Supreme Certifying Commission of the Republic of Armenia  issued a joint Author's Agreement granting the National Library of Armenia permission to deposit all theses and dissertations in the new OA repository of the Armenian ETDs free of charge.
WHAT THE ARMENIAN ETD-OA OFFERS
Each ETD record in the repository consists of its bibliographic description, the full text thesis/dissertation, and the abstract. OA ETDs are available under Creative Commons Attribution Licence. Some of the deposited ETDs are still subject to an embargo period.
All record fields are searchable, and end users can aggregate records by selecting search criteria. Records are also harvested and indexed by Google via the protocol for metadata harvesting of the Open Archives Initiative (OAI-PMH).
READ MORE
To find out more about OA in Armenia, visit the OA Portal.