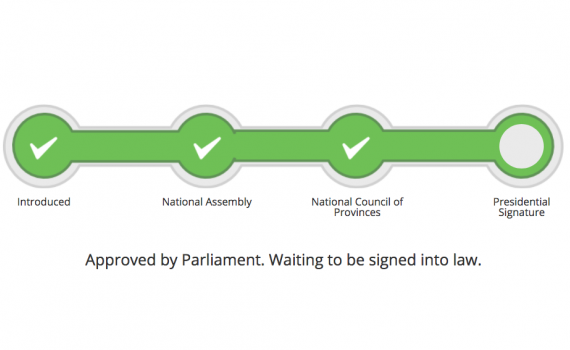 Posted: November 26, 2019
In a letter to Cyril Ramaphosa, President of the Republic of South Africa, EIFL urged the President to sign into law the long-awaited Copyright Amendment Bill without delay. The Bill, amending the 1978 Copyright Act, was approved by the legislature in March 2019 and awaits the Presidential assent. The Bill introduces new exceptions for libraries, education and people with disabilities, and brings copyright rules in South Africa into the digital age.
However, the Bill has run into trouble following objections by US-based multinational copyright industries that say it fails to adequately protect US copyrights. As a result, the Office of the US Trade Representative (USTR) has announced a review of South Africa's place in its largest preferential trade scheme for developing countries, putting at risk billions of dollars in South African exports to the US.
A smart copyright BILL enabling modern library services
On 28th March 2019, South Africa's Copyright Amendment Bill [B13B - 2017] was passed by both houses of parliament, the National Assembly and the National Council of Provinces. The Bill brings the 1978 Copyright Act, adopted in a pre-internet era, into the digital age (rules regarding libraries, archives, education and research had never been updated during this time). 
The Bill contains new provisions enabling modern library activities and services, such as digital preservation, support for online learning, and uses by persons with disabilities. It also contains a new general US-style fair use exception, building on the existing fair dealing exception. The new exceptions cannot be taken away by terms in licences. The rights of creators to ownership and management of their works are strengthened, and the Bill introduces much needed transparency to the collective management of rights.
From a library perspective, it's a smart Bill that provides long overdue public interest copyright reforms. It will help to maximize access to knowledge for education and learning, and support cutting-edge science, research and innovation. It will create new opportunities for South Africans to engage in the digital economy, underpinning the government's National Development Plan 2030.
OPPOSITION AND THREAT OF US TRADE SANCTIONS
Rightsholders in South Africa, on the other hand, are strongly opposed to the Bill. It will harm content creators, they say, because the exceptions are too broad and fair use will not work in South Africa.
In the latest twist, the International Intellectual Property Alliance (IIPA), an umbrella organization of five US-based trade associations from multinational film, music, software and publishing industries, has managed to persuade the Office of the US Trade Representative (USTR) to trigger a review of South Africa's place in its largest preferential trade scheme, the Generalized System of Preferences (GSP). 
In its submission to USTR, IIPA claims that the new Bill fails to provide "adequate and effective protection of US copyrights". Of particular concern to IIPA is the proposed adoption by South Africa of a US-style 'fair use' provision, as well as regulation of author contracts and licensing mechanisms.
GSP provides duty-free access to US markets of goods from designated developing countries. Crucially, GSP eligibility predicates participation in the African Growth and Opportunity Act (AGOA), that provides enhanced market access to countries in Sub-Saharan Africa, said to be worth an estimated $2.38 billion to the South African economy. 
'TEXTBOOKS ARE THE NEW MEDICINES'
It is not the first time that South Africa has been threatened with trade sanctions for introducing public policy reforms concerning intellectual property. In the late 1990s, at the height of the HIV/AIDS pandemic, the first post-apartheid government led by President Nelson Mandela was sued by 39 drug companies and their representative body for seeking to reduce prices on essential drugs. The companies claimed their patent rights had been infringed. But faced with a global campaign from AIDS and human rights activists, and the resolve of the government of South Africa not to give in, the pharmaceutical companies eventually dropped their lawsuit in 2001.
"Textbooks are the new medicines," says ReCreate South Africa, a group that promotes the interests of South African creatives in copyright legislation. "Social movements in South Africa have risen to demand access to affordable education. They made fees fall, but textbooks can still eat all of a student's survival allowance. Copyright allows the four or five big publishers who dominate global markets to price South Africans out of the market."
EIFL hopes that President Ramaphosa will sign the Copyright Amendment Bill without delay signalling that South Africa, as a sovereign state, is perfectly entitled to make use of flexibilities in the international copyright system to devise a modern copyright law that meets the needs of all its people, and the development priorities of the nation.
A public hearing by USTR takes place in Washington D.C. on 30 January 2020.
Further reading