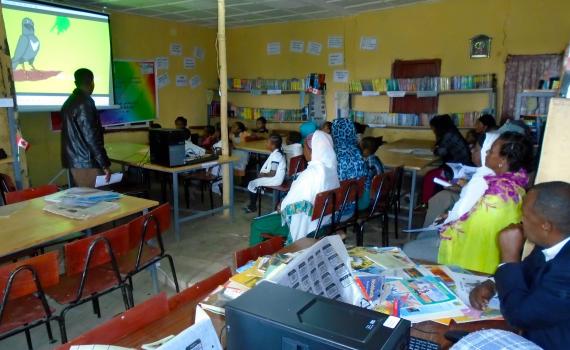 The literacy promotion organization CODE-Ethiopia has shared results of its Ebooks and Family Literacy pilot project, which was implemented with support from the EIFL Public Library Innovation Programme (EIFL-PLIP).
The pilot project followed research conducted by USAID in 2010,  which found that a third of children in second grade and a significant number of third-graders in Ethiopian primary schools could not read at all.
To help address this situation, the CODE-Ethiopia pilot project worked through three community libraries to improve the environment for early literacy development of pre-school children.
The project created 12 new local-language pre-school books in print and electronic formats, and equipped three rural community libraries with digital technology (desktop computers, projectors and projection screens) to use in family literacy sessions. In the family literacy sessions, parents learn to read with their children and interact with their children around books.
CHILDREN'S PRINT AWARENESS LEVELS INCREASE
Family literacy sessions in the three libraries reached over 40 families – mothers, fathers and children. After a year, CODE-Ethiopia assessed the children's print awareness levels and found that print awareness of children who had taken part in the project had increased from 54% to 78%. [Print awareness is a child's earliest understanding that written language carries meaning.]
Drawing on learning from the pilot phase, CODE-Ethiopia has trained community librarians from 22 more community libraries to conduct family literacy sessions and guide parents in helping their children develop early literacy skills. All the librarians are committed to offering family literacy sessions in their communities in future, using the CODE-Ethiopia's new books.
Read more
Read a two-page case study about the impact of the project in the community and on the library.
Read more about CODE-Ethiopia's Ebooks and Family Literacy pilot project.
Background
CODE-Ethiopia's Ebooks and Family Literacy pilot project is one of 10 public library projects for children and youth funded by EIFL-PLIP in 2014. Over the next few months, we will be publishing further case studies about the impact of these projects.
Since 2010, EIFL-PLIP grants have initiated and supported library services and projects that are reaching communities through over 300 public and community libraries in 27 countries in Africa, Asia, Europe and Latin America.
EIFL-PLIP works across six crucial community development issues: agriculture; digital inclusion; education; employment; health, and supporting the needs of women and girls.
Read more about EIFL-PLIP grantees and their innovative services.