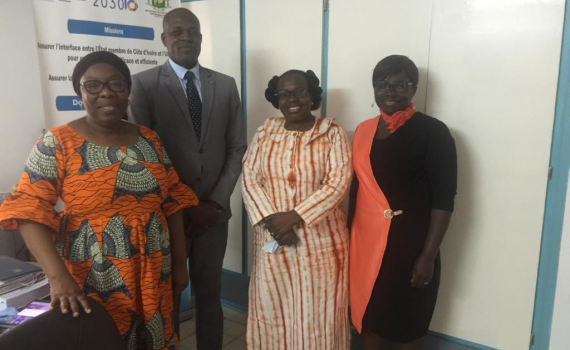 In September 2020, the Republic of Côte d'Ivoire ratified the Marrakesh Treaty for persons who are blind and visually impaired. The treaty entered into force three months later on 17 December. In anticipation of this moment, EIFL's partner in Côte d'Ivoire, Consortium des Bibliothèques de l'Enseignement Supérieur de Cote d'Ivoire (COBES-CI), began making plans so that libraries and people with print disabilities can quickly benefit.
The Marrakesh Treaty improves access to knowledge for print-disabled people by giving organizations like libraries the right to reproduce printed works in accessible formats such as braille, audio, large print and digital formats, and to exchange these works across national borders.
To ensure its swift implementation into national law, on 30 December 2020 the COBES-CI team met with the Secretary General of the UNESCO National Commission and his staff to discuss ideas for driving forward the next actions needed for implementation of the treaty. As a first step, it was agreed to approach key government agencies that will be involved in the implementation, such as, the Ministry of Commerce and Industry and the national Copyright Office at the Ministry of French Language and Culture (BURIDA) in order to develop a plan for implementation.
EIFL is also on hand to provide support as work on implementation moves forward. Our two popular guides - a basic introduction to the Marrakesh Treaty, and a 'Getting Started' guide aimed at libraries in countries that have joined Marrakesh, are both available in French. And to assist policy-makers and libraries, EIFL reviewed the copyright law of Côte d'Ivoire and made recommendations for Marrakesh-friendly copyright law amendments. 
In addition, libraries in Côte d'Ivoire can benefit from free access to Bookshare, the world's largest accessible online library for people with print disabilities, through an EIFL-negotiated agreement. And because Côte d'Ivoire has joined the Marrakesh Treaty, the whole Bookshare collection of over 950,000 titles can now be made available.
The Marrakesh Treaty is off to a strong start in Côte d'Ivoire!
More about how EIFL is supporting the Marrakesh Treaty in partner countries.