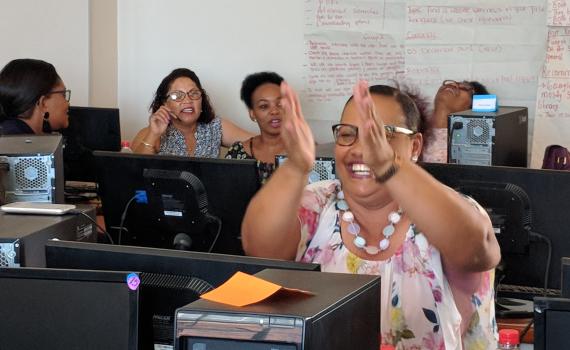 EIFL and Namibia Library and Archives Service (NLAS) have entered into a partnership to strengthen continuous professional development of public librarians by building training skills of a group of librarians, who will become trainers within the NLAS network of public libraries.
The partnership will build capacity of public librarians to use digital technology effectively and confidently in services that are relevant to their communities, and to provide technology training in their communities.
NLAS manages a network of 65 public libraries, with 262 staff members. Currently, 60 public libraries are offering free access to computers, and 57 are also providing free access to the internet in their communities. The goal is to connect all 65 public libraries to the internet and provide free access to the public by 2020.
"NLAS libraries are shifting away from traditional book lending services, to offering different kinds of services that focus on community needs, including technology-based information and training services. The aim of the Ministry is to provide public access to information and communication technology (ICT) in all public libraries by 2020." - Sarah Negumbo, Director of the NLAS in the Ministry of Education, Arts, Culture.
THE PROJECT
The EIFL-NLAS partnership will skill a cohort of 16 NLAS librarians to become trainers, so that they can provide ongoing training within the NLAS network of public libraries in future.
WHAT THE TRAINING COVERS
The curriculum includes training that will build librarians' new service development and technology skills:
Training of trainers
Generic training skills - how to plan, organize and conduct training on different subjects.
Digital technology skills
Designing ICT training for different user groups, and ICT training skills, so that public librarians are able to develop digital skills training courses and provide training in their communities.
eResources and internet searching, which builds capacity to find and access e-resources, and to use search engines to find reliable and relevant resources.
New services
Introducing new library service ideas, including conducting community needs assessment, building action plans, and budgeting.
Design thinking for libraries, in which librarians learn about human-centred design, an approach that organizes library spaces and develops library services that can be adapted to suit different community needs and contexts.
Re-thinking Library spaces, in which librarians learn how to modernize and make more attractive library spaces.
Impact and advocacy
Performance, outcomes and evaluation of library services - collecting and analyzing statistics and other data about the impact of new services.
Library communications and advocacy - preparing communications strategies for proposed new services, and advocating for government funding.
During the programme, the trainers will practise and test their training skills through cascade training workshops for other librarians in the NLAS network. The cascade training will be mentored by EIFL trainers.
ACTIVITIES
Assess training needs of the librarians in the NLAS network.
Train 16 trainers who will train public librarians in the NLAS network.
Cascade training, during which NLAS trainers will pass on their knowledge and skills to other NLAS librarians.
Develop a plan for continuous capacity building of Namibia's public library network, deploying local trainers to conduct training.
PROJECT TIMELINE
2018 to 2020
What's next for the project
There will be further training for the 16 trainers in 2020. Once they have completed their training, the trainers will cascade their knowledge and skills to other NLAS librarians, and conduct ICT training for people in their communities. The project will conclude with an evaluation of impact. 
find out more