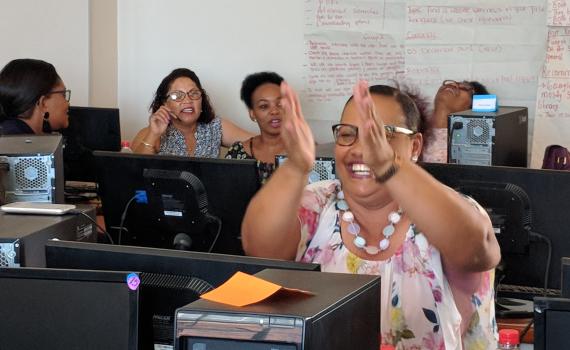 From 2018 to 2020 EIFL and Namibia Library and Archives Service (NLAS) worked together to strengthen continuous professional development of public librarians in Namibia.
NLAS manages a network of 66 public libraries, with over 260 staff members. Currently, 60 public libraries are offering free access to computers, and 57 are also providing free access to the internet in their communities. The goal of the partnership was to ensure technology available in public libraries is used to full potential in new services that respond to community needs.
WHAT THE TRAINING COVERED
Training of trainers
Generic training skills - how to plan, organize and conduct training on different subjects. Principles of training adults.
Digital technology skills
Designing ICT training for different user groups, and ICT training skills, so that public librarians are able to develop digital skills training courses and provide training in their communities.
eResources and internet searching, which builds capacity to find and access e-resources, and to use search engines to find reliable and relevant resources.
New services
Introducing new library service ideas, including conducting community needs assessment, building action plans, and budgeting.
Design thinking for libraries, in which librarians learn about human-centred design, an approach that organizes library spaces and develops library services that can be adapted to suit different community needs and contexts.
Re-thinking Library spaces, in which librarians learn how to modernize and make more attractive library spaces.
Impact and advocacy
Performance, outcomes and evaluation of library services - collecting and analyzing statistics and other data about the impact of new services.
Library communications and advocacy - preparing communications strategies for proposed new services, and advocating for government funding.
During the programme, the trainers practised and tested their training skills through cascade training workshops for other librarians in the NLAS network. The cascade training was mentored by EIFL trainers.
"Most of the time when we want to train our librarians we have to get somebody from outside - external trainers to capacitate our librarians. But with this programme we will have experts locally." - Namutenya Hamwaalwa, Deputy Director, NLAS
 ACTIVITIES
Assess training needs of the librarians in the NLAS network.
Select, train,and coach public librarians to become trainers within the NLAS network.
Cascade training, during which NLAS trainers pass on their knowledge and skills to other NLAS librarians.
Assess the impact of the training of trainers and cascade training.
Develop a plan for continuous capacity building of Namibia's public library network, deploying local trainers to conduct training.
PROJECT TIMELINE
2018 to 2020
ACHIEVEMENTS
Developed the skills and knowledge of 16 public librarians, positioning them to become expert trainers for their colleagues. Each trainer received 17 days of training. The 16 NLAS trainers trained 84 of their colleagues from 43 public and 14 ministerial libraries. Unfortunately, cascade training sessions were interrupted by restrictions to prevent the spread of COVID-19, and there are plans to continue when restrictions are lifted. To date, the training has covered - Internet searching and e-resources (22 trainees); Advocacy and communication (15 trainees); Advocacy (17 trainees); Design Thinking and Project Management (15 trainees); Advanced ICT and Library Spaces (15 participants). All trainees were satisfied with the training received. Three months after the cascade training, EIFL and NLAS conducted an impact assessment survey, and 51 trainees responded: 

88% found the training was very relevant to library service delivery.
51% reported a major improvement and 37% reported a moderate improvement in their knowledge and skills.
39% said the training had made a big difference in library service delivery and 53% said there had been moderate difference. 

The trainees improved library services. Three months after attending cascade training, trainees reported that - 

Numbers of people using ICT in the libraries had increased, and librarians were conducting more training (for example, in using computers to design posters, write CVs, research the internet, access e-resources).
Improved library visibility, because librarians were designing posters and fliers to market services and were more active on social media.
Management and operations of libraries had improved - survey respondents cited improvements in leadership and supervisory skills; improved customer relations; and improved project management.

The trainees introduced new library services. Some libraries had introduced new services, for example, 

10 public libraries were demonstrating a reading app to teachers and students at local schools; 
Omaheke Regional Library started work with street children; 
Koes Public Library had organized a women's group that was meeting once a week to discuss issues affecting women and families; 
Luderitz Public Library had started Weekly teenage games clubs. 
Okahandja Library had started a cooking club. 
Rehoboth Public Library introduced reading and group discussions on school subjects for Grade 10 - 12 students. 
"Unfortunately, with COVID-19 we have not had much time - but there is new energy and spirit in our libraries as a result of the EIFL-NLAS partnership." -  Aletta Dunn, Chief Librarian for Public Libraries under the NLAS, 
FIND OUT MORE