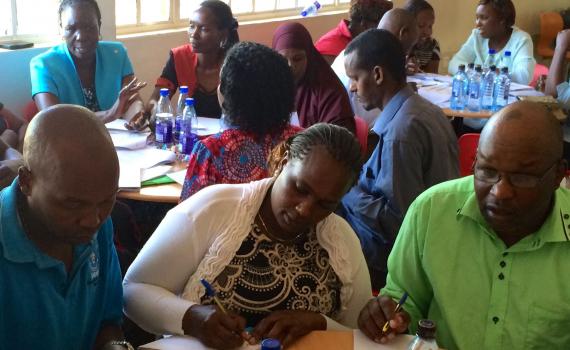 In 2014/15 EIFL worked with local and international partners to implement a major capacity building initiative involving 30 librarians from 29 public and community libraries that currently provide public access to computers and the internet.
The training built librarians' capacity to use information and communications technology (ICT) effectively, and to create new public library services that use digital technology to benefit communities. It also built librarians' training capacity so that they can teach community members to use computers and the internet.
The training was organized by the EIFL Public Library Innovation Programme (EIFL-PLIP).
EIFL'S TRAINING PARTNERS
EIFL's main partner in this initiative is the Kenya National Library Service (KNLS), the statutory body tasked to develop, equip and manage public library services in Kenya. Knls comprises a network of 61 libraries.
EIFL also collaborated with UNESCO Regional Office for Eastern Africa, based in Nairobi, and Goethe-Institute Kenya which contributed to curriculum development and training.
WHAT THE TRAINING COVERED
The curriculum included four core modules:
Module 1: Advanced computer and internet skills for public librarians.
Module 2: Internet searching and e-resources.
Module 3: Developing and managing new public library services, including community needs assessment, service design and drafting funding proposals, implementation and impact assessment.
Module 4: Communications and advocacy for new services.
Gaps of at least a month between training sessions enabled librarians to return to their libraries to practise newly-learnt skills in their daily work.
TIMELINE
November 2014 to May 2015.
IMPACT OF THE TRAINING
An assessment of the impact of the training conducted four to six weeks after the training found that:
Participants believed that the training had changed their perceptions about the value of using ICT to serve the needs of their communities.
80% of participants had started new services in their libraries. These services include training people in their communities to use ICT; advising community members about internet searches; conducting internet research in response to particular requests from library users; guiding women's groups in online fundraising and proposal writing; using internet resources in reading clubs for children, and providing information to library users via mobile phone text messaging (SMS).
By just four weeks after the training, the course participants had trained over 700 members of the community and 150 fellow librarians to use ICT.
The majority of participants reported that they were using ICT more frequently and effectively in their day-to-day work.
82% of participants reported increased confidence with respect to awareness-raising and advocacy, and over 65% said that awareness-raising activities in their communities had resulted in increased library membership and use.
"I have visited a number of primary and secondary schools, and I have also visited local government offices informing them about the new services the library is offering using the internet. We have received many new users," said Eunice Ngina Kateta, librarian at Werugha Community Library.
WHAT'S NEXT FOR EIFL'S KENYA CAPACITY BUILDING INITIATIVE?
EIFL is working with KNLS to identify further gaps in public librarians' knowledge and skills; to develop the training curriculum further to meet advanced skills needs, and to strengthen in-country training capacity in Kenya for continuing professional development of public librarians.
To create opportunities for trainees to practise grant-writing and advocacy skills learnt during the training programme, EIFL invited public librarians who completed the training to apply for funding to initiate new community development services, using ICT. Three grants were awarded in 2016 - see the results :
FIND OUT MORE
The Kenya training is part of a major EIFL capacity building initiative for public librarians in Africa. After successfully piloting national training for public librarians in Ghana in 2014, EIFL-PLIP adapted the curriculum and methodology to meet the needs of public librarians in Ethiopia, Kenya, Uganda and Zambia.