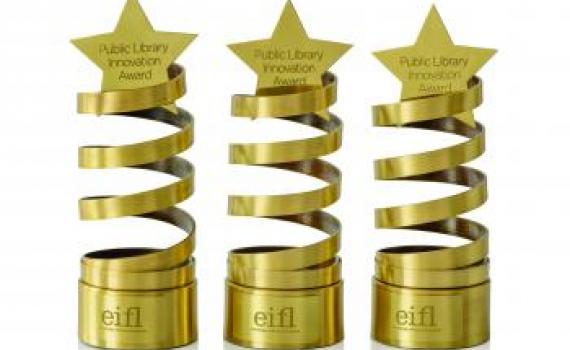 Posted: September 1, 2020
This call closed on 16 November 2020. We'll be announcing winners early in 2021 - watch our website for the announcement, or follow us on social media.
We are happy to announce that the EIFL Public Library Innovation Award - for public library services that improve lives - is now open for applications.
COVID-19 has made 2020 a difficult year, disrupting personal and professional lives everywhere. That's why we're launching the award earlier this year, to give you extra time to complete your applications. 
We're also including a new Innovation Award  category - for new public library services introduced to help communities struggling to cope with the impact of the COVID-19 pandemic.
The award is open to all public and community libraries in developing and transition countries that use ICT to improve lives in their communities by addressing any of the following issues - 
Community economic wellbeing and employment;
Supporting farmers;
Community health and hygiene;
Digital inclusion;
Gender equality and empowerment of women and girls;
Education for all;
Climate change and any other issues affecting the environment;
Responding to COVID-19 - new services launched specifically in relation to the pandemic.
The prize is US$1,500 plus wide publicity through EIFL's global communication channels and networks.
The deadline for submitting applications is Monday, 16 November 2020. The call is now closed.
Applications will be accepted in English, French, Russian and Spanish.
FIND OUT MORE AND APPLY