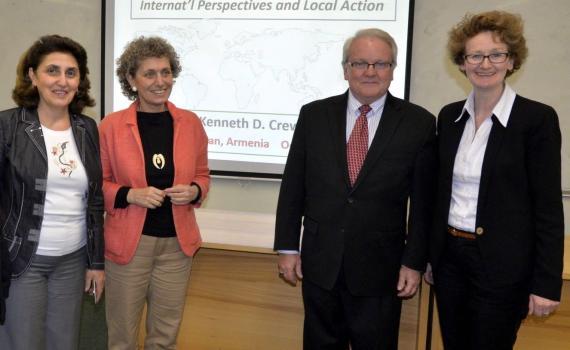 EIFL has been engaged in copyright work in Armenia since 2012, supporting a national  advocacy campaign to review the current copyright law (2006) and to make library-friendly recommendations for the new law.  
The new draft copyright law was published in the first quarter of 2017. EIFL and the Electronic Library Consortium of Armenia (ELCA) are evaluating the new draft law, and will make interventions as needed.
EIFL's support helped build capacity and confidence of Armenian librarians to engage with the Armenian copyright office and to represent libraries' interests on the international stage, at a meeting of the World Intellectual Property Organization (WIPO) in Geneva (Switzerland). Participation in national and international processes has won recognition for Armenian librarians as important stakeholders and contributors to copyright law reform.
"In Armenia, the stakeholder group that showed the most vivid interest was the library community. Our discussions, attended by a wide range of librarians, were very constructive and I learned at first-hand about the specific problems for  libraries in Armenia – for a legislator a very precious experience on one hand, and a great challenge on the other."
"Having heard the voice of the Armenian library community, I changed several provisions in the pre-draft text to meet their concerns as far as possible, especially the chapter on exceptions and limitations, while safeguarding the framework of international and European legislation to which the Republic of Armenia is committed," said Dr Miha Trampuz, appointed expert to develop a modern and EU-compliant draft Law on Copyright and Related Rights of the Republic of Armenia.
Background
Armenia joined WIPO in 1993, the World Trade Organization (WTO) in 2003, and is a member of major international treaties including the Berne Convention, Agreement on Trade Related Aspects of Intellectual Property Rights (TRIPS), and the WIPO internet treaties.
In 2013, Armenia completed negotiations with the European Union (EU) on an Association Agreement, including a Deep and Comprehensive Free Trade Area (DCFTA) that has a chapter on intellectual property rights. The negotiations prompted a review of the Armenian Law on Copyright and Related Rights (2006) to assess alignment with EU laws.
In 2015, Armenia joined the Eurasian Customs Union (EACU) that includes Belarus, Kazakhstan, Kyrgyzstan and Russia.
Libraries in Armenia play an important role in developing a democratic society and in providing support for education. They increasingly supplement print collections with electronic materials to provide access to new resources and to offer new services to library users.
However basic activities such as digitization and electronic document delivery are hampered by the 2006 copyright law that does not cater for the digital environment. Librarians must, therefore, be involved in copyright law reform to ensure that the new law meets the real needs of libraries and library users in Armenia today.
Timeline
June 2012 – December 2017
Main activities and achievements
2012 - 2013
EIFL supported an advocacy campaign for copyright reform in Armenia:
2014
2015
2017
Next steps
The law on copyright was part of the programme for government of the Republic of Armenia in 2016. The new draft law was published in the first quarter of 2017.
EIFL and ECLA are evaluating the new draft law. We will be checking in particular to ensure that the draft copyright law allows for the freedoms available to libraries in EU law (the Information Society Directive 2001) and in the orphan works directive (2012).
Such permitted uses include digital copying by libraries, including for unpublished works; document delivery; making available certain digitized works on dedicated library terminals; free uses for educational purposes; use in virtual learning environments (VLEs); use of orphan works, and the ability to circumvent a technological protection measure to use an exception.
Useful resources
Copyright in Armenia - will library expectations be met?
WIPO should take the lead on libraries before someone else does