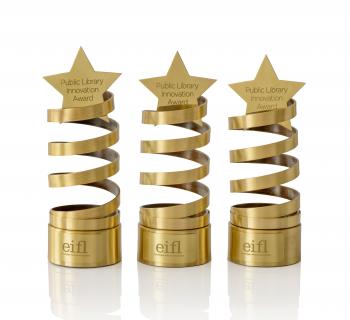 EIGHT exciting innovation award calls launched since 2011
The EIFL Public Library Innovation Awards are open to all public and community libraries in developing and transition countries. Each call highlights an important community development issue.
Winners receive a prize of US$1,500, a trophy, a certificate, and publicity through EIFL's website and wide network of contacts.
Since 2011, EIFL has completed seven exciting innovation award calls and announced the names of 27 winners in Africa, Asia, Europe and Latin America.
Our eighth call - for innovative public libraries contributing to literacy, is now open.
Award 8: public libraries contributing to literacy: call closed - winners to be announced soon
With this call, we are seeking excellent examples of library services that use digital technology: 
To teach non-literate people how to read and write, and / or 
To improve people's existing literacy levels.
The services can target people of any age and gender (including children, youth, adults or seniors) who have literacy needs. 
The deadline for applications is October 12, 2015. 
Read more about this exciting award and how to apply: English, French, Russian and Spanish. 
Meet the winners of pAST awards
Award 1 - Public libraries contributing to community economic wellbeing (2012)
Award 2 - Public libraries contributing to community health (2012)
Award 3 - Public libraries contributing to social inclusion in the community (2013)
Award 4 - Public libraries contributing to open government (2013)
Award 5 - Public libraries empowering women and girls (2013)
Award 6 - Creative use of ICT in public libraries (2014)
Award 7 - Public libraries contributing to education (2014)