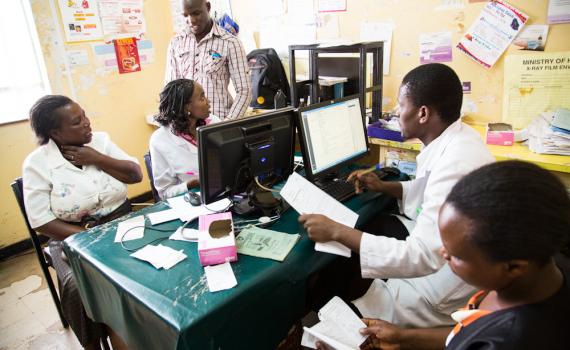 The Open access in Kenya, Tanzania and Uganda project was developed to build on EIFL's open access (OA) work in the region. EIFL first began advocating for OA in Eastern Africa in 2010, when we supported the first OA workshop in Kenya.
Since then, EIFL has worked with a variety of local stakeholders to raise awareness, support OA policy work and provide practical training to promote, support and establish OA journals and OA repositories at institutions of higher learning.
BACKGROUND 
Before the project started, there were seven OA repositories in Kenya and three academic institutions had OA policies (Strathmore University, Jomo Kenyatta University for Agriculture and Technology and the University of Nairobi) as a result of EIFL's support. In Tanzania there were two repositories but there were no OA policies in the country and the situation was similar in Uganda, with three live repositories.
There were 13 OA journals published in Kenya, Tanzania and Uganda before the project started. Some of the journals in the region had already demonstrated OA benefits, for example African Crop Science Journal reported increased visibility and submissions (increasing number were from outside Africa), cost reduction in publishing (up to 70 per cent), time saving (the time required for production and dissemination are much less when publishing online – the Editorial Board is now considering publishing more issues), and discouragement of plagiarism. And another OA journal - Pan African Medical Journal – has proved that an African OA journal can attract large numbers of manuscripts in a very competitive environment.
To build on this momentum, the EIFL Open Access programme embarked on a new project to open more research content from universities and research organizations in the region.
OVERVIEW
The aim of the the Open access in Kenya, Tanzania and Uganda project  was to raise visibility and accessibility of research outputs in Kenya, Tanzania and Uganda.
The project educated researchers, students, research managers and policy makers, librarians and health workers about changing scholarly communication landscapes and has advocated for the adoption of open access (OA) policies by research funding agencies, universities and research organizations. It also built the capacity of these institutions to setup OA repositories and to publish OA journals.
The Open access in Kenya, Tanzania and Uganda project was implemented together with the EIFL partner consortia: Kenya Library & Information Services Consortium (KLISC), Consortium for Tanzania Universities and Research Libraries (COTUL) and Consortium of Uganda University Libraries (CUUL).
The project was funded by Spider, the Swedish Program for ICT in Developing Regions DSV, Department of Computer and System Sciences, Stockholm University and the Open Society Foundations (OSF).
MAIN ACTIVITIES
Awareness raising, advocacy and capacity building workshops targeted for faculty, students and research administrators
Capacity building events for OA repository managers and OA journals editors/publishers as well as institutional OA champions
Setting up OA repositories
Converting subscription-based journals into OA
OA policy discussions
TIMELINE
February 1, 2013 - July 31, 2014.